Competitions and Results
During the school year, the Heads or House and captains run various events and competitions that the students and staff compete in. We believe this teaches the students about healthy competition as well as the correct way to win and lose. It also reinforces team work, rules and social skills and widens students' engagement in school life.
| | |
| --- | --- |
| How to Obtain Individual House Points | Team Events - House Competitions |
| | |
| | |
| Reports (Effort/Behaviour) | |
| | |
| | |
| | |
| | |
We would like to thank all staff, captains and students that have enthusiastically embraced the House Challenges this year. Please find the Term 1 results below. Term 2 results will be published on our website and Twitter as soon as they are available.
Wandering Trophy
Netball Tournament between House Teams made up of Staff & 6th Form.
WINNERS
RALEIGH
10 points
2nd —Walsingham (5 points)
3rd—Drake (3 points)
4th—Burghley (2 points)
The
House Cup
Awarded to the house the most points.
WINNERS
RALEIGH
11,738 points
2nd Burghley (11,526)
3rd Walsingham (11,413)
4th Drake (10,924)
Charity Shield
Wear IT pink week—pink items worn, money raised & attendance at Dodgeball
JOINT WINNERS
BURGHLEY & DRAKE
3rd Raleigh
4th Walsingham
Numeracy Challenge
Winners of the weekly quiz
TERM 1 WINNER
DRAKE
960 points
4th Burghley (480 points)
3rd Walsingham (510 points)
2nd Raleigh (790 points)
Thought of The Week
Challenge
Winners of the weekly challenge
TERM 1 WINNER
BURGHLEY
500 points
4th Raleigh (175 points)
3rd Drake (200 points)
2nd Walsingham (250 points)

The pictures below show the Staff/VI Netball Teams....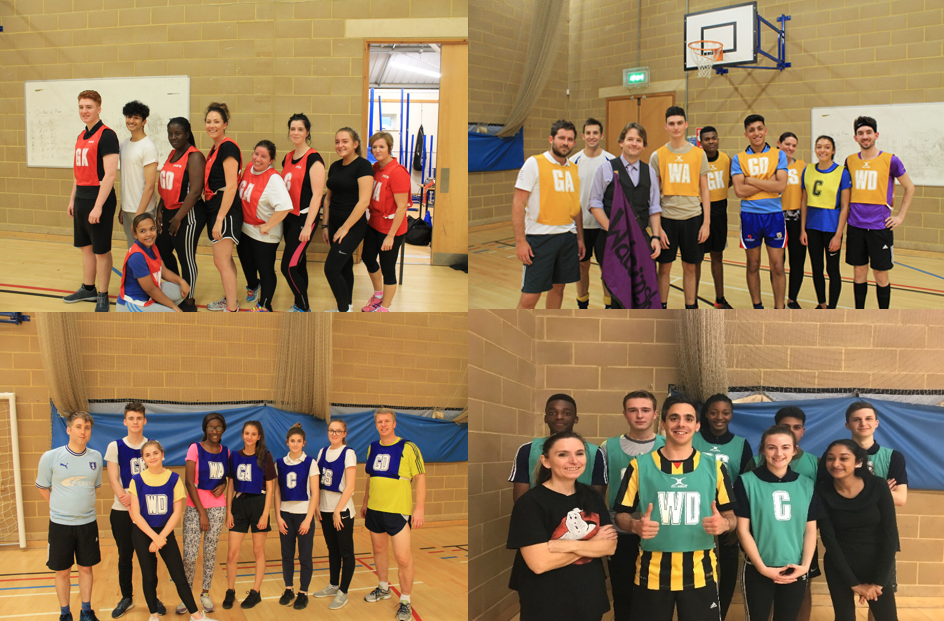 Here are the top male/female house point scorers each form...
| | | | |
| --- | --- | --- | --- |
| Julia Kopaczek | 07R5 | F | Burghley |
| Thomas Jeffs | 07R1 | M | Burghley |
| Hubert Malenda | 08R5 | M | Burghley |
| Amelia Blake | 08R1 | F | Burghley |
| Raymond Matata | 09R1 | M | Burghley |
| Molly Hillman | 09R5 | F | Burghley |
| Kamelah Fernandez | 10R1 | F | Burghley |
| Christopher Price | 10R1 | M | Burghley |
| Ibrahim Zaheer | 11R1 | M | Burghley |
| Lexus Buckingham | 11R5 | F | Burghley |
| Tulsi Patel | VI R5 | F | Burghley |
| Rahul Jethwa | VI R5 | M | Burghley |
| Szymon Sacawa | 07R6 | M | Drake |
| Grace Gibbons | 07R6 | F | Drake |
| Luke Walton | 08R6 | M | Drake |
| Wilma Asare | 08R6 | F | Drake |
| Manasi Mehta | 09R2 | F | Drake |
| Kani Pierre | 09R6 | M | Drake |
| Abigail Bardell | 10R6 | F | Drake |
| Tanatswa Lucas | 10R6 | M | Drake |
| Maria Minnone | 11R6 | F | Drake |
| Yassin Moktadir | 11R6 | M | Drake |
| Alessio Lala | VI R2 | M | Drake |
| Jessica Savory | VI R6 | F | Drake |
| Bethany Talbot | 07R7 | F | Raleigh |
| Luke Scott | 07R7 | M | Raleigh |
| Kacper Michalik | 08R7 | M | Raleigh |
| Barbara Podlewska | 08R7 | F | Raleigh |
| Patrycja Golab | 09R7 | F | Raleigh |
| Sunny Mistry | 09R3 | M | Raleigh |
| Neha Dholakia | 10R3 | F | Raleigh |
| Harry McWilliam | 10R3 | M | Raleigh |
| Paris Taplin | 11R3 | F | Raleigh |
| Zak Rodgers | 11R7 | M | Raleigh |
| Thomas Hawthorn | VI R7 | M | Raleigh |
| Sherina Gooden | VI R3 | F | Raleigh |
| Julia Gadawska | 07R4 | F | Walsingham |
| Archie Burns | 07R4 | M | Walsingham |
| Jessica Dale | 08R8 | F | Walsingham |
| Christian Ihejirika | 08R8 | M | Walsingham |
| Joanna Warczynska | 09R8 | F | Walsingham |
| Kishan Patel | 09R4 | M | Walsingham |
| Callista Quadling | 10R4 | F | Walsingham |
| Ryan Clarke | 10R8 | M | Walsingham |
| Ellen Motsi | 11R4 | F | Walsingham |
| Keval Popat | 11R4 | M | Walsingham |
| Tahlia Palmer | VI R4 | F | Walsingham |
| Daniel Bartram | VI R4 | M | Walsingham |