School Uniform
Summer Uniform Notice
Please note that Summer uniform can now be worn. This will include:
White polo shirts – only with the school logo
If a normal school shirt is to be worn then this must be with a tie
Blazers MUST still be worn (Jumpers are not allowed instead of blazers)
Black shoes – NOT trainers
Please be aware that should a skirt be worn then in must be of knee length and not of clingy material. If there are any infringements to this then the normal school behaviour policy will be enforced. Thank you.
White Polo Shirts letter ...click here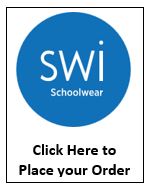 Our uniform supplier Sportswear International offers a Direct to Parents Service, please click the image to the left to be redirected to their website.
Pupils' dress is an important aspect in reflecting our ethos of high standards of work and behaviour. Our distinctive uniform aims to give a corporate and shared appearance for pupils and sets the scene for a business like approach to the school day. We are proud of our students, their behaviour and appearance, both in and out of school and they are a credit to us. We intend to ensure that our standards are maintained. We request that parents/carers support our uniform policy by ensuring that their child/children are appropriately dressed for school, and support us in the use of sanctions for non-compliance.
Our School Uniform Policy can be found on our Policies Page. We encourage you to read our Uniform Guide for full details of appropriate uniform attire.
In addition to plain black trousers/skirt and a plain white shirt/blouse (which can be purchased through the retailer of your choice) students are required to wear the following uniform, which must be purchased through the SWI Direct to Parents Service as these items are no longer available to order through the school:-
Compulsory Day Wear:

Compulsory PE Kit:

Black Blazer – with embroidered logo
Tie with house colour

Blue Polo Shirt with logo
Black PE Shorts with logo
Black PE Socks with logo

Optional Day Wear:

Optional PE Kit:

Black V Neck Jumper with logo (only jumpers with logo can be worn)
White Polo Shirt with logo (Summer Term only)

Black PE Fleece with logo
Black PE Tracksuit Bottoms with logo
On the menu bar you will find an instruction guide from SWI explaining how to order uniform online, by telephone or by post directly.
The instruction guide is available to download below, along with a printable order form if you wish to order by post.
If you have any difficulties using this service please contact Kelly Frost, Administration Assistant, on 01933 221403 who will be pleased to help.