School Uniform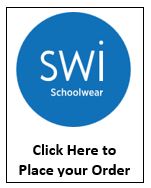 Our uniform supplier Sportswear International offers a Direct to Parents Service, please click the image to the left to be redirected to their website.
Below you will find an instruction guide from SWI explaining how to order uniform online, by telephone or by post directly.
If you have previously accessed the Sportswear International site you will be prompted to create a new password, for security purposes when you login.
If you have any difficulties using this service please contact Kelly Frost, Administration Assistant, on 01933 221403 who will be pleased to help.
UNIFORM POLICY
Students' dress is an important aspect in reflecting our ethos of high standards of work and behaviour. Our distinctive uniform aims to give a corporate and shared appearance for students and sets the scene for a business-like approach to the academy day. We are proud of our students, their behaviour and appearance, both in and out of the academy and they are a credit to us. We intend to ensure that our standards are maintained.
We request that parents and carers support our Uniform Policy by ensuring that their child/children are appropriately dressed and support the academy in the use of sanctions for non-compliance. Compliance with the academy's Uniform Policy forms part of the Home School Partnership Agreement as part of the admission process.
Parents and carers who have any financial difficulty in providing the required uniform should contact the academy.
Our School Uniform Policy can be found on our Policies Page.