Alice Production
Report on our latest production can be viewed here....
WELL DONE TO ALL INVOLVED!
Our talented youngsters took the audience on a trip to Wonderland with our production of Alice. Students took to the stage twice this week for performances of their version of the classic tale by Lewis Carroll.
"The White Rabbit is late for the Duchess. The Cheshire Cat won't stop grinning and the Hatter is, well, mad. In the middle of it all is Alice, a young girl with a vivid imagination and a family life that's less than perfect"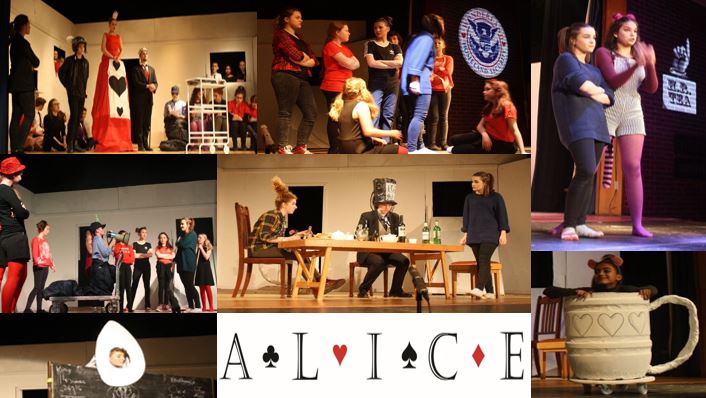 Based on Lewis Carroll's classic tale, Alice breathes fresh life into a much-loved story about rabbit holes, pocket watches and talking caterpillars. "This was Wonderland as you've never seen it before." A cast of more than 30 youngsters, led by Liv Camilleri as Alice, took the audience on a magical mystery tour from Wellingborough to Wonderland. As well as the Queen of Hearts, Humpty Dumpty and some croquet-playing flamingos, they were supported by the backstage crew and sixth formers who ran a raffle and cake stall at each performance. Wellingborough mayor and mayoress Malcolm and Veronica Waters were invited as special guests at Wednesday's performance. Speaking afterwards, the mayor said: "It was a very professional production."
We are so proud of the students involved. They have worked tirelessly for months and deserve enormous credit for making the show a success.
Well done to Mr Gibson, Miss Brennan and Mr Jeffs and their student helpers, they all did an incredible job.

Read more at: http://www.northantstelegraph.co.uk/news/students-swap-wellingborough-for-wonderland-with-latest-production-1-7848120