Results for 2018
Top school in the county... again.
Sir Christopher hatton academy has achieved the highest progress for students in northamptonshire for both this year and over a three year period.
Results for 2018 were released on Tuesday 16th October 2018 at 9:30am. We have included links to the results for all the schools in the town to assist the parents of Year 6 students make the difficult decision of which school is right for your child.
Sir Christopher Hatton is a different school, we offer a huge range of opportunities for your child to develop and demonstrate their individual successes across a huge range of activities through our HBacc, enrichment and the many other options available.
Unlike most schools who have reduced their option choices at GCSE, we have added additional options for 2018-19 as part of our commitment to offer the very best offering for your child.
We remain committed to outstanding achievement as this opens doors for your child. The progress 8 measure demonstrates this and a progress 8 of +0.76 means that our students achieve 8 grades higher across 10 subjects compared with the average in an English secondary school. It also means that students at Sir Christopher Hatton make progress in the top 3% of schools nationally - no other local school comes close.
Take a look at the Performance Tables in full by clicking the image below: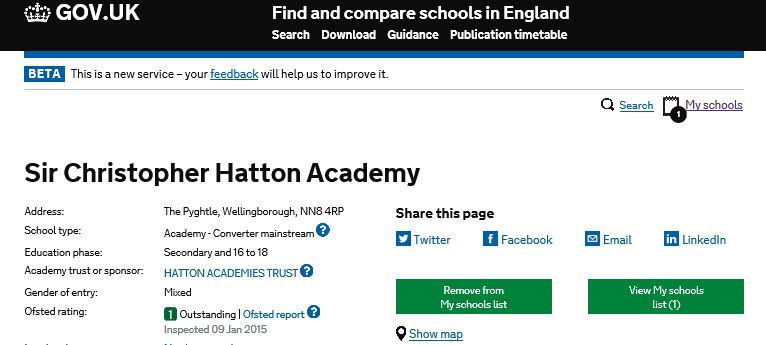 Compare our results with other schools in Wellingborough by clicking the image below: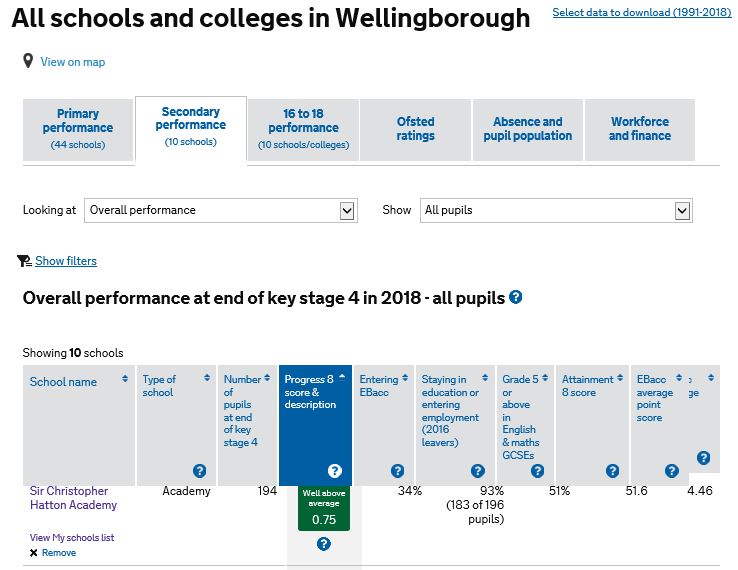 Compare our results with other schools in Northamptonshire by clicking the image below: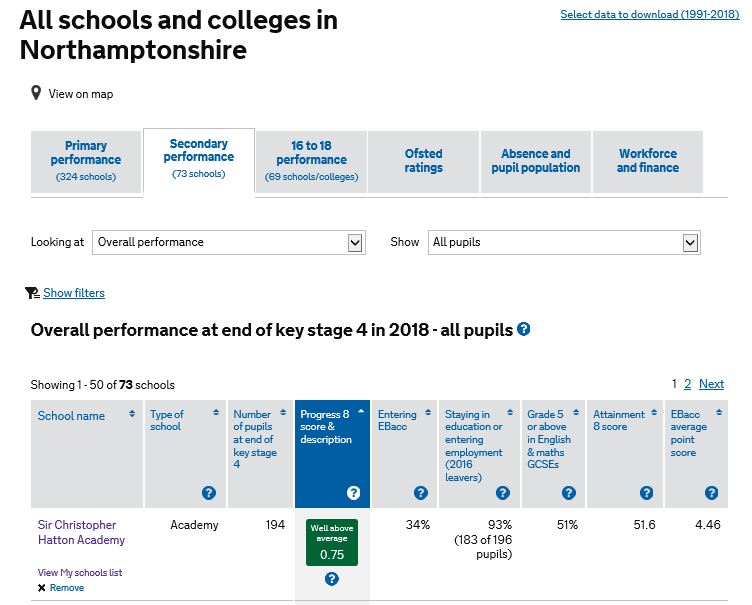 Students at Sir Christopher Hatton Academy are celebrating as they receive their GCSE results which include the numerical grades 9-1 in the majority of subjects for the first time.
In the three years since being recognised as outstanding, students at the academy have achieved results and progress well above their peers in other schools both in the Wellingborough area and nationally.
Each year, achievement and progress has risen still further and, this year, results have seen a further improvement from the nationally recognised achievement of recent years.
The main measure of "Progress 8" which recognises the progress made during a student's time at secondary school was already well in the top 10% nationally and today's results have seen this increase even further.
The percentage of students achieving both English and maths at grade 4 and above has increased to 68%. The percentage of students achieving both subjects at the new, more challenging grade 5 and above increased significantly to 50%.
Andrew Wilson, Director of Secondary Standards for Hatton Academies Trust, commented:
"We are delighted for our students and proud to share in their success. It is particularly pleasing that under the new GCSE examinations, an impressive 30% students achieved the equivalent of a grade A or A* in mathematics with over a quarter of students achieving the equivalent of a grade A or A* in English and even more achieving this standard in science."
Victoria Bishop, C.E.O and Executive Principal, said: "Students and staff have worked incredibly hard to achieve these outstanding results in the newly introduced, more challenging GCSE examinations. We look forward to seeing many students return to our successful sixth form in September and wish all students the very best in their future endeavours."
Students achieved impressive results across the board with the following students achieving the pinnacle of eight or more GCSEs at grades A* or A (or the new equivalent numerical grades of 9-7):
Prithila Nandasiri, Zak Rogers, Roshni Patel, Ibrahim Zaheer, Ruhan Uddin, Paris Taplin, Jake Stevens, Molly Stephens, Samuel Shores, Georgina Scott, Daniel Rowley, Nika-Kare Pierre, Hannah Patrick, Krutika Patel, Jackie Oketch, Yassin Moktadir, Maria Minnone, Firdawsi Miah, Masuma Khanom, Shantelle Gwebu, Emily Gower, Amy Edwards, Deepali Desai, Jonathan Davies, Shardey Codrington, Giulia Cestaro, Olivia Camilleri and Lexus Buckingham.
In addition, the following students achieved an exceptional grade 9 in three or more subjects:
Ibrahim Zaheer, Paris Taplin, Jake Stevens, Krutika Patel, Yassin Moktadir, Maria Minnone, Firdawsi Miah, Shantelle Gwebu, Deepali Desai and Jonathan Davies.
Sir Christopher Hatton Academy's Open Evenings will be held on:
VI Form – Wednesday 7th November at 6:30pm